As CRITICAL Software reboots its corporate social responsibility programme in its 20th year, find out what this means through the eyes of one of our employees. Here Ciara Mulkerrins, Marketing Manager based in our UK office, talks about her experience at CRITICAL.
Since I've been at CRITICAL, I've been privileged enough to work with so many people who do more than is expected of them. It's inspiring how these passionate people move seamlessly between applying themselves at work and devoting their time to causes they care about.
The ways in which CRITICAL and its people have given back in the past have been driven by an honest desire to do good. Engaging with local communities has always been important to the company and the people at CRITICAL mirror this devotion.
Take the example of when our clever engineers applied their tech know-how to toys. This is one of the standout projects that comes to mind when people ask me how CRITICAL gives back to its local community. Our people adapted cars, dolls, pianos and other toys so that children with motor difficulties could operate them. Plus, they also helped create a new, virtual version of a program that helps children overcoming similar difficulties communicate through images or symbols.
It's quite something when you consider that we have the chance to take skills used to create powerful software for our international clients, and then apply them in a way that helps a child find joy.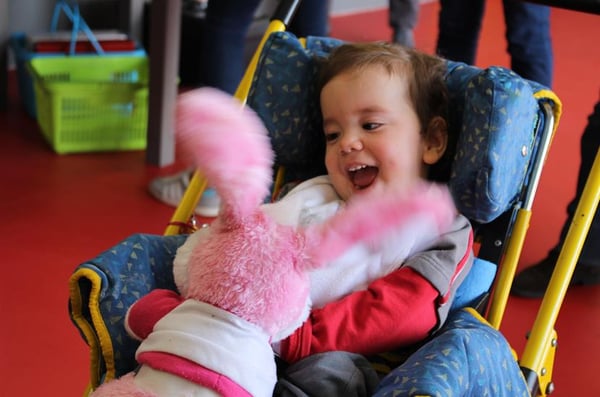 I feel really good about being part of a company that has always tried to help make small positive changes by doing our best with the skills we have.
In our twentieth year, CRITICAL has revitalised its corporate social responsibility plan in the hope that we can continue to contribute to our communities in a more tech-focused way, using our natural skillset.
Since engineering solutions is what we do and our love of tech is pretty obvious, it makes sense to help solve problems by giving back through technology. That's why our new programme is called Engineering Change.
Engineering Change gives everyone at CRITICAL the opportunity to contribute by using what we know. It's a great chance to consolidate all our good intentions and focus on creating the changes we'd like to see.
Initially, we'll start with three main initiatives to help us make change happen. Firstly, there's TechUP, our training initiative where we'll help people of all ages learn about computers, coding and more. As part of this, a number of our engineers are involved in mentoring programmes at local schools, sharing their knowledge and helping students improve their skills.
Secondly, there's Project Red which will bring together the different activities we'll be undertaking to support local charities who bring about change through technology. Charities like MERU, who's work we were delighted to support with a donation earlier this year. These wonderful people design, modify and build assistive equipment for young people with disabilities.
Finally, we have Talking Tech, an initiative focused on inspiring the next generation of superstar engineers. By sharing our expertise through talks on specialist subjects, we want to inspire young people to embark on an exciting career in a STEM subject. Our engineers have already been busy visiting universities and presenting talks on subjects like working with artificial intelligence, playing with Docker and exploring complex software architecture, to name a few.
Knowing that the company I work for cares enough to devote time, money and resources to giving back to the communities around it is something I value highly. I'm delighted to be part of this new chapter for CRITICAL Software and look forward to seeing what happens next.
To find out more about Engineering Change, visit our website. You can also stay up to date with our latest news by subscribing to our newsletter and following us on social media.